I am currently focusing on breeding otter mini rex in my rabbitry. Though this is is not yet a showable color, they have already passed the first ARBA showing in Kansas by certificate holder and ARBA judge: Armando Cabrera. I am also breeding in tort and red to intensify the rufus color in the otters and am using black and lilac to eliminate white hairs/deepen the body coloring & produce the chocolate gene.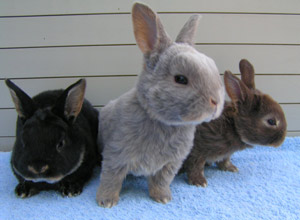 A rainbow of otter babies
My otter stock is line bred from Cabrera's Paragon, a gorgeous blue otter buck, who also carries the chocolate gene. Thank you to Dione Freeman for lending me this awesome buck to get my line started! All Rabbit Hill otters shown below are his offspring.


Otter Bucks:

Rabbit Hill's Poseidon Broken blue otter

Rabbit Hill's Philemon Black otter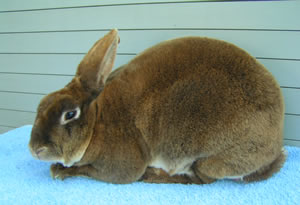 Rabbit Hill's Odhar Chocolate otter

Rabbit Hill's Odhar Chocolate otter

Otter Does:

Rabbit Hill's Penelope Black otter

Rabbit Hill's Phoebe Broken Blue otter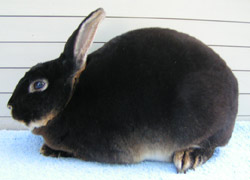 Rabbit Hill's Penelope Black otter

Rabbit Hill's Gradi Blue otter



Other colors:

Rabbit Hill's Strawberry Jam Red doe Placed- RIS Solano County Fair, 2003-youth

Rabbit Hill's Periwinkle Tort doe Placed- 1/4 Stockton 2003-open



Rabbit Hill's Sexi Lilac doe

BB's Pixie REW doe (genetically a broken black) 4 GC legs-grand champion

Veitch's Cordelia Lilac Doe 2 GC legs

Cottonwood's Paprika Tort buck 2 senior GC legs