The Rabbit Hill Dwarf Breeds presents: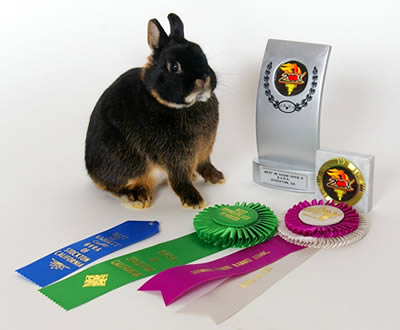 Rabbit Hill's I'm It!
Black Otter Netherland Dwarf Senior Buck
Open Best in Show Winner-Stockton-02/08 out of 1000+ rabbits
Reserve in Show Winner-Grand National Show-San Francisco 04/08
9 Grand Champion legs and counting!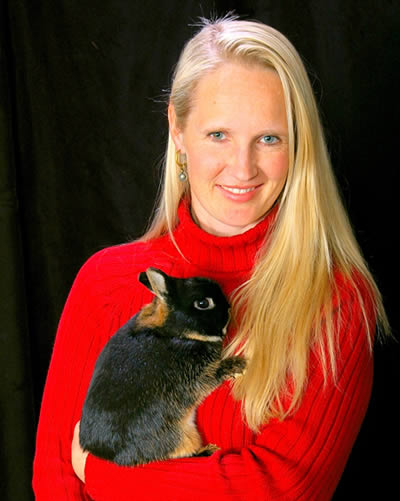 Welcome to "the Rabbit Hill." We are a small, SF Bay Area rabbitry, specializing in Holland Lop & Mini Rex dwarf rabbits. Occasionally we also have Netherland Dwarf and Jersey Wooly's for adoption. Both pet and show quality rabbits are available from grand champion breeding lines. Abyssinian, Peruvian, Texel and American Guinea Pigs are our cavy specialties.

Weekly trips to our 4th and 6th grade classrooms ensure exceptionally child friendly bunnies and cavies. Grass run access and organic vegetables are a part of our daily routine. We look forward to hearing from you!


I would like to thank Linda Pett, Sarah "Dione" Freeman, Candace & Meganne Vaivadas and Amy Hiroshima for all of their support, advice and the wonderful rabbits that they have all sold me.

Special thanks to Tony at Miyoji Productions without whose insight this web page would not have been possible.
What's Hopping at
the Rabbit Hill!
Welcome to "The Rabbit Hill" current events column!

We are a small hobby rabbitry located in the Northern California/San Francisco East Bay town of Benicia. We have purebred, dwarf Holland Lop, Mini Rex and Netherland Dwarf pet or show rabbits available for adoption. We attend American Rabbit Breeders Association rabbit shows around California and across the U.S.

Show News:

Turlock-November 2008:
Rabbit Hill's Fortuit ("chance" in French), blue otter Holland Lop jr doe wins Best Opposite of Breed for her third Grand Champion Leg.
GC legs on the following rabbits: CT's Chosen One-Chestnut Netherland Dwarf sr buck (BOB), Lone Star's LS185-BEW ND sr doe, CT's Gold Dust-Black otter ND jr doe, Rabbit Hill's Black Bart-Black HL jr buck. It was a great show!
Rabbit Hill's "I'm It!" black otter Netherland Dwarf wins his second BEST IN SHOW-Gridley June 2008. He now has 11 Grand Champion legs all for BOSB, BOB, or BIS!!


He also has a BEST IN SHOW win from Show A at Stockton Feb 2nd, 2008. This little buck also took Best of Breed and honorable mention for BIS for Show B in Stockton and BOB and honorable mention for BIS in Show B in Santa Rosa (Jan 08).
June Gridley Results:
Best Opposite of Breed-Holland Lop-Broken Blue jr doe-Rabbit Hill's Thumbelina-as named by judge Manuel Hidalgo! (leg)
NDs-BOSB, BOSG-Black otter Sr Doe-Rabbit Hill's 16T (leg)
BOSG-Broken orange sr doe-Rabbit Hill's 24T (leg)
BOSB-Orange sr doe-Rabbit Hill's 35T (leg)
ARBA National Convention 2008:(we did not attend)
Holland Lops:
Rabbit Hill's Christina 3rd place broken jr doe (youth-owned and shown by Kelly Burkhardt)
ARBA Convention 2007:
Holland Lops:
Rabbit Hill's Callie (Broken Black) jr doe places 5th, Rabbit Hill's Galactic (Broken Blue) jr buck places 29th.
The Rabbit Hill places 7 rabbits in the top 10 at the 2007 Holland Lop National Show in Prescott Arizona!


Libra-broken blue-3rd BSD & 1st place fur (1st place BSD-day after show)-she is now a Grand Champion with 4 legs
Scooter-broken blue tort-5th BSB
Tommy-broken black-8th BSB
Lola-broken blue-9th BSD (3rd BSD-day after show)
Terminator-black-7th SJB (7th BJB-day after show)
Jenny-broken tort-7th BJD (3rd BJD-day after show)
Anemebi-black otter-10th SJD
For full HL national placings please go to: www.sahlc.com
Upcoming Shows include the Lodi show in Nov., the Yuba City Show in Dec and the Stockton and Santa Rosa show in January 2009!